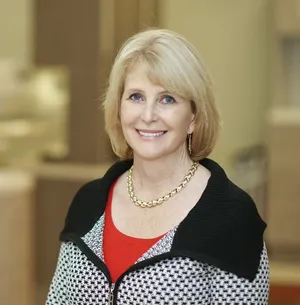 THERESA G JONES D.M.D., F.A.G.D
Dr. Theresa Jones was born and raised in central Mississippi. She began her education at Mississippi State University where she earned a Bachelor of Science in Microbiology and Masters in Biochemistry. She continued research efforts in the Department of Pharmacology at the University of Mississippi Medical Center three years after graduation.
Her focus then shifted to dentistry as she was accepted to the University of Mississippi Dental School. After obtaining her dental license, she moved to the Mississippi Gulf Coast and opened a private practice in Pass Christian. She remained there for 23 years. During that time she completed hundreds of continuing education hours including participating in the Cosmetic Continium I and II at LSU. She studied with Dr. Jeff Morley, co-founder of the American Academy of Cosmetic Dentistry in San Francisco, observing and learning advanced cosmetic procedures.
In August 2005, Dr. Jones and her staff relocated to Gulfport where she designed a new office utilizing the latest technological advances. Since being in Gulfport she continued to work on her education and completed the Fellowship of General Dentistry.
In November 2018 Dr Jones expanded the practice to include associates and became Hillcrest Dental Group, P.A. She believes what sets Hillcrest Dental Group apart from other practices is the efficiency combined with the spa like amenities that help patients relax. "We stay on time, handle insurance professionally, and consider the care of our patients to be a calling, not a job." Jones states. "My staff is kind, they have a good work ethic and they love people. We have a great team start to finish."
Dr. Jones and her staff strive to provide the highest quality care through extensive continuing education and expert training in a professional, friendly spa-like environment.

What does practicing dentistry mean to you? "It has been an honor to practice dentistry and help our patients maintain healthy mouths. Dentistry has come a long way from the old 'drill and fill' days. Modern dentistry still has a role to play in correcting dental disease, but our true calling is to help patients with prevention. Because life expectancy is increasing, our goal is to keep our patient's teeth intact with strong bone support for what could potentially be over 100 years"